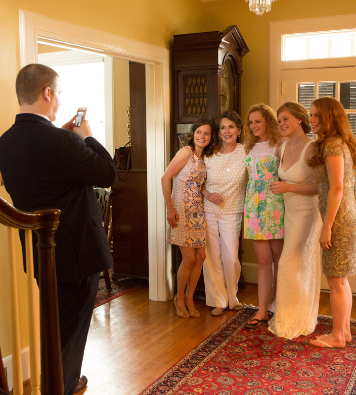 I have been blessed with a wonderful family...the Burns Family!  My name is Mary Ann, and I am married to my husband John, who grew up in Wadesboro, but has lived in Monroe for 35+ years.  He has a law office in downtown Monroe.  Also, John and I have four amazing children:  Chris(32) and wife Laura, Sarah(31), Molly(24) and husband Neill and Tyler(18).
Burns Family Grows
Chris and Laura live in downtown Monroe, just a block and a half from us.  Chris is a lawyer in Monroe and works with John in their firm, Burns, Gray & Gray.  Laura is employed as a speech therapist at Union Regional Hospital.  In addition, Chris and Laura blessed us with our first grandchild, Jack, who is a delightful three year-old, and now Anna, our beautiful new grand-daughter.
Sarah lives in Charlotte. She also works in the family law firm. The love of her life is Ryan, who is a lawyer for a firm in Charlotte. So many lawyers in one family!
Molly and Neill have moved to West Jefferson, North Carolina. They love living in the mountains. Molly is physical therapist, and we always put her to work on our aches and pains when she is in town.
Tyler is a freshman at Appalachian State University. So far he loves college life, and being away from home. We will see how he feels after his first winter in Boone.